Excluding the recycled bits and this specific silk & bead trim I seem to be obsessed with (LOL)
One of three quote plaques for my design team contribution this month. Using MDF I created background plaque for the MDF word. To do this I used SUZE WEINBERGs Ultra thick embossing enamel. This is like embossing powder where you apply a glue pad watermark ink pad, sprinkle on powder, heat and melt into a molten enamel that sets hard as it drys. I hadn't used this brand of enamel before and I have to say omgoodness I was very impressed the plaque only had one layer and that was sufficient to cover the MDF previously I may have used up to 4 coats for a similar effect.
The "imagine" word I painted black and covered with fabric. The fabric is actually out of a curtain/ blind sample book. I have a gorgeous stash of fine fabrics I have purchased for between 10 cents and $1 a book. Its a brilliant way to get your hands on some lovely lovely fabric just go to you custom blind company and ask do they have any old swatch books, wallpaper books are also a great find too the older the better. Vintage or retro wallpaper swatch books can have some really funky patterns on them. I am still yet to find on with that groovy flocked wallpaper samples that were popular in the 60's 70s ...now THAT WOULD BE EXCITING! . Alot of the time they will be a little yellowed round the edges but that adds character...right? LOL
Sorry about the photos I am still struggling with a defective camera
it needs a holiday at the camera fix it shop but I don't have the dollars I need just yet!
This is Basic Grey Marakesh patterned paper I "quilted" onto a soft thick cardboard then stitched Crystal coloured seed beads to the stitching cross points. The outer boarders were silk scrap strands that Vivian one of SCRAPTIVATES teachers will recognise, as they were bought from her online a long time ago! I have had them hanging around in the stash looking pretty and sometimes I use a little piece here and there when I can bare to part with it. It looks so lush, tactile and decadent hanging in colourful bundles on the walls. I don't know call me strange I love the look of hanging ribbons. with a glance you see whats perfect for the job. LOL That's the fabric sample book the fabric I used came from.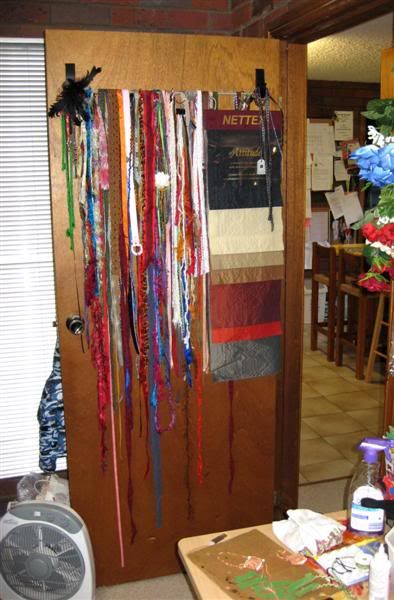 The rose is just a white one sprayed with Tattered Angels Glimmer mist, Santa baby and Flower power wasn't sure about the orangness of it in the bottle but on ....I LOVE IT! I plaited and wound organza ribbon florist and jewelry wire together with some old recycled chain and added the crystal beads periodically.
Hope you like this one because a few weeks from now
I have two others to up load but first....
I have a whole lot of SCRAPWARE show samples to russle up!
stay tuned for the details!
:)